Monday, October 19, 2020 / by Paul Parker

Go Ahead & Give Yourself A Real Treat This Month!
The month of October can be a spooky month, maybe even a scary month with monstrous problems. Yikes!! Well maybe not, but words like that seem to be popping up everywhere as kids and adults alike look forward to Halloween & its festivities. In fact, according to the USA Today, adults spend more on themselves to celebrate Halloween than any other day during the year. I get that -- especially if they want to hang out with the kids to go trick or treating, or to a Halloween party of some kind. For many homeowners and home buyers though, they are truly scared. Scared to death of how in the world they are going to get out of their house and into their next one (the trick). Have no fear, Paul is here, with the answers to your scary questions with some reassuring answers on how to get out of your current home and into your next home.

www.PAULHASTHEANSWERS.com
MY TREAT
As a result of working with over 1,000 families over many years, we have developed a special program to help home sellers and homebuyers. We will guarantee the sale of their present home at a price agreeable to them and in the unlikely event their home does not sell, we'll buy it. Now that is how you turn a trick into a real treat. AND remember… YOUR referrals help the Community. The students in Wakulla County have an amazing resource in their corner, to help assist them in the finding of financial aid for either vocational scholarships, or colleges and universities.

YOUR REFERRALS CHANGE LIVES



RECORD CONTRIBUTIONS
With it being a record year for our clients, this means in turn that we will be donating a RECORD AMOUNT to the Boosters this year. In fact, we are so close to reaching that as of October 1st, we have already raised a total of almost $9000 for the Boosters through the amazing contributions from our team on behalf of clients & referrals.
WAKULLA COUNTY HOME HOTLISTS
OF BRAND NEW & MOVE-UP HOMES
This record summer has been so incredible to watch for my sellers and buyers as they make moves to reach their dream homes. Wakulla County is building an enormous amount of brand new single family homes over the next year (nearly 300) which means the market is ripe with opportunity for those looking to purchase their first home.
In addition, those looking to find Move-Up Homes in the area are finding that now is the best time to look for new homes as they are spending more time at home than ever before, and
the extra space is priceless!
Whatever your situation, our expert marketing systems are made to get your home sold in the fastest amount of time, for the most amount of money. with the least hassle.
Let's make your 2020 the year you move into YOUR dream home.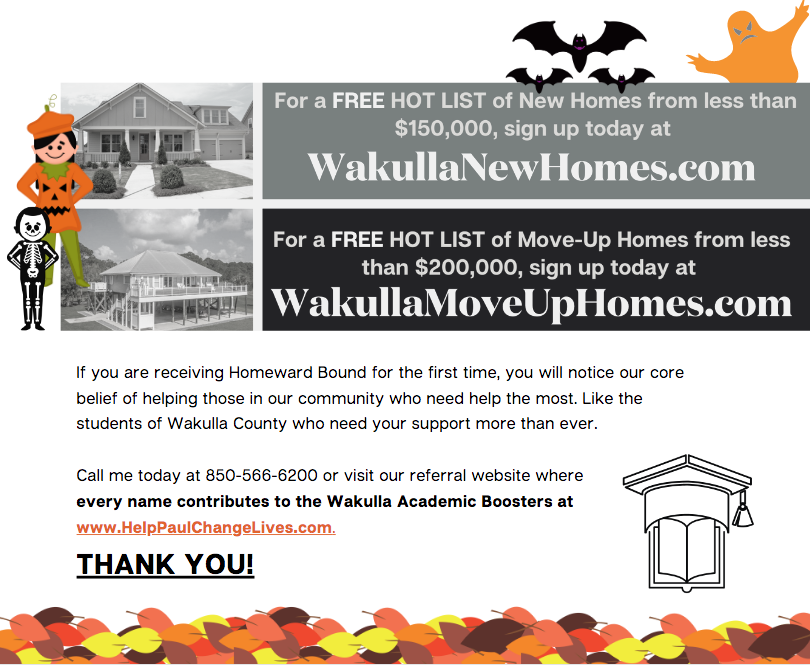 ---